I'd like to apologize to my loyal readers for the lack of posts lately. (Shout out: Ane's friend that I saw at Twilight – sorry, I forgot your name)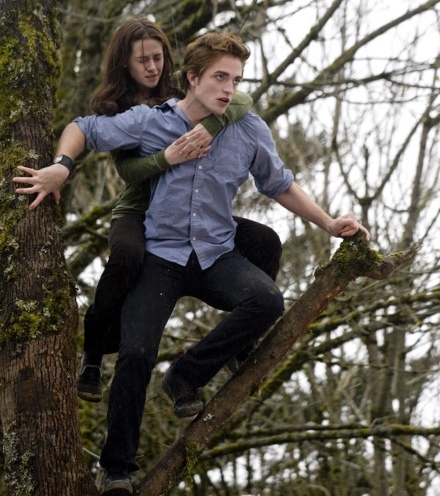 Yeah, I finally saw Twilight. To sum it up, it was great. It was horrible. It was awesome. It was embarrassing. It was funny. I really hope the next one is better.
Well, this was my last week:
Ended my 3-week stay in Rexburg, drove my mom to the Salt Lake airport and she flew home to California. Then I drove home! Then I looked in the fridge to see if AJ had left the Thai curry in the fridge that I had asked him to throw out (3 weeks ago).
He hadn't. Ew.
I don't want to husband-bash, because I am unbelievably in love with him and very lucky to find such an awesome guy. But can I just say...HE NEEDS ME...BAD. He either didn't want to, or didn't know how to cook himself dinner the whole time I was gone. "We don't have any food." Most the food in the fridge was bad when I got home. There were Halloween candy wrappers all over under "his" chair. The shower was pretty pretty gross.
So I cleaned.
He did run the dishwasher and do a couple loads of laundry, so I do appreciate that. I just needed to tell someone, and since this is like my personal journal, and not that many people read it, and you guys ARE my E-BFF's, (catch the Seriously So Blessed joke?), I thought I'd share the story.
On Tuesday AJ and I drove down to Kaysville and got to have dinner with my grandparents (dad's side) and hang out for a while. They are really fun, and we got homemade jam to take home!
Wednesday we drove BACK to Sexy Rexy for Thanksgiving. We stayed until Saturday and had a really good time with all the Frisby Fam. The whole fam damily. We had the Wii set up with a projector, we went to the ice caves (if you want to see a
hideous slash hawt picture of me click here
– thanks Bernie!), we had an amazing Thanksgiving dinner (thanks Debbie), we went bowling, and I had the wonderful privilege of sleeping with 2 dogs every night, and AJ of course.
I'd like to talk about the mustache thing next, but wouldn't it be better with pictures? I'll wait until I get one from Jenni. There were lots of mustaches this week.
It was a really fun week. And I feel like it's finally okay to start decorating for Christmas. The pre-Thanksgiving pressure was ridiculous.
In other news, my unemployment money just ran out, I need to go grocery shopping, I drove "The Wasp" today, and there's still no snow here. The no snow thing is okay though, because we can still do this: